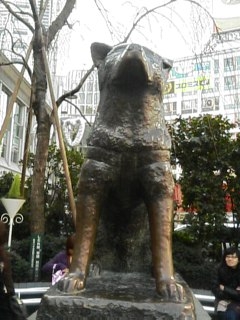 Those who visit Tokyo
and meet friends in
Shibuya will most proba
bly meet at Hachiko
Square. Many people
have glorified this Akita
dog but the truth is only
known to Hachiko. It is
true Hachiko loved his
spot at the station and I
am sure he loves his
current spot. Soon, in
early April, we will be
celebrating him during
"Hachiko Matsuri."
Please come and see
how proud he looks with cherry tree behind him at the annual formal Japanese Shinto
blessing.
A very happy new year and "Hajimemashite" to the excite blog-gers!
My new year resolution this year is to join you all in sharing
some information about the locations I know somewhat. I'd love to receive comments in either English or Japanese but my
inputs will be in English.
I travel quite extensively but what I do most is ride my "mama-chari" bicycle around Shibuya where I live and work. I enjoy
giving info about Shibuya or answer to any questions you might have related to living in Shibuya. I will need to take some
pictures but to start, let me just introduce the beautiful
Japanese "shobu" iris which is symbol of our city. This picture
explains about the different types of irises but you will only find "shobu" irises in the
inner garden of Meiji Shrine
. At the
peak season (around 20th of June), you can view about 10,000 different Edo-types iris flowers in bloom.